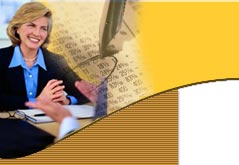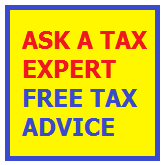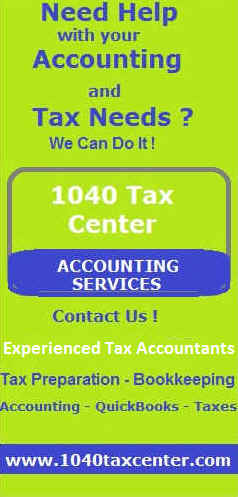 Tax Expert - Free Accounting Advice - Free Tax Advice

Free Bookkeeping Help - Free Accounting Help - Free Bookkeeping Advice
ACCOUNTING & INCOME TAX CENTER
Professional Tax Expert Advice by Accountants and Income Tax Experts
The Accounting & Income Tax Center has 25 years of accounting experience and is a professional group of accountants, tax experts, and small business specialists offering a full range of accounting, tax, payroll, QuickBooks, bookkeeping, and consulting services to individuals, small businesses, Sub S corps, and corporations. We provide the education and tax resources to minimize your taxes. Our Ask a Tax Expert program and Ask the Accountant service gives free tax advice from accountants. Get Free Live Accounting Help and tax help from tax experts. Ask the accountant for free accounting advice online.
Our income tax professionals are authorized by the IRS an an E-file provider in the US and all 50 states for tax preparation of Form 1040, Form 1120S, Form 1065, and other tax return forms. Ask a Tax Expert or accountant for online free tax advice.
Need a Bookkeeper

Find you a Bookkeeper !

Monthly QuickBooks Bookkeeping

Timely Financial Reports

Get Tax Questions Answered for Free

Personal Service

Guaranteed Lower Monthly Fee and More Tax Savings

24/ 7 Tax Hotline

Need an Accountant

Find you an Accountant !

Corporate Tax Returns
S Corp
C Corp
LLC
Small Businesses
Individuals




Phone Quotes
Fixed Fees
NO HOURLY FEES




Need More Tax Deductions
Get Free Tax Advice




We show you how to SAVE !



Services Provided

Accounting Services

Corporate Taxes

Business Startups

QuickBooks Expert

Incorporation

Financial Statements

Individual Taxes

Tax Services
Consulting

Estate Planning
Payroll Services

Retirement Planning
Income Tax Planning

S Corporations
Partnerships

Small Business Accounting
Self-Employed

Free Tax Expert Advice
FREE Tax Strategies

Free Consultation with a Tax Accountant

· Guaranteed to find you over $1,000 in tax deductions every year

· No Hourly Fees

· Free Tax Advice All Year

· Small Business Specialists

· Income Tax Experts

· S Corporation Specialist

· 25 Years of Experience

Ask About Our Performance Guarantee Pledge


Get an accountant and tax expert who:

Always returns phone calls in less than 24 hours

Always give you free tax expert advice

Always find deductions and save you money

Always give you personal service

Get the Tax Expert Help, Accounting Help, and Free

Bookkeeping Help, and Free Tax Advice You Need –

You Deserve It!

| | |
| --- | --- |
| Name: | |
| Email: | |
| Phone: | |
| City: | |
| State: | |
| Zip: | |
| County: | |
| Services Needed: | |
| | |

LOOKING FOR AN ACCOUNTANT

Sign up and get free bookkeeping help training, free online bookkeeping tutorials, free bookkeeping software advice, free online bookkeeping help courses, and free small business bookkeeping help. Be the best you can be and take advantage of all our services. We prepare and file your 1040 taxes free with your corporate tax return.

Choosing a Tax Accountant

Every business needs a good accountant and tax expert from day one who will save you money and give free tax advice, free bookkeeping help and free accounting advice. We offer QuickBooks accounting software training through our QuickBooks ask accountant program. Don't say that you will wait till you start making money. Immediate decisions must be made such as how to document your start up costs and what type of records are required to be kept. Maybe you need help choosing the right type of entity to form your business. Maybe you need help selecting bookkeeping software. And of course there are thousands of tax deductions available. Make sure your accountant knows a QuickBooks expert since that is a popular accounting software.

Get a tax expert accountant who gives free tax advice and free accounting advice and ask the partner of the firm if he does YOUR taxes or just some inexperienced tax accountant who recently graduated working in the back office. And then of course, find an accounting firm that offers accounting services at a fixed reasonable fee. Forget about those hourly rates of $100, $200, or $300.

Get the tax help and accounting help your need right away. Learn about our free 1040 tax return filing program and take advantage of our free efile. Get your company records and books set up from the inception. Ask your accountant if he will help you incorporate your small business.

Make sure you choose a full service accounting firm who provides a wide range of accounting services.
Our Income Tax Experts, Small Business Accountants and Small Business Specialists will answer any tax question. Get free tax expert help and free tax advice and free accounting advice on:

Tax returns, tax preparation, tax refunds, tax forms, small business taxes, small business accounting services, income taxes, self employment taxes, capital gains tax, tax software, S corporations, corporate taxes, IRS tax help, incorporating your business, accounting, free bookkeeping help, first time homebuyers credit, or any other tax topic.
We are headquartered in Ft Lauderdale, Florida. Our primary service areas are Coral Springs FL; Pompano Beach FL; Boca Raton FL; Parkland and Ft Lauderdale FL. Our other service areas include Jacksonville, Pensacola, Ft Myers, Sarasota, Miami, Ft Myers, and Orlando. We have many clients in North Carolina, South Carolina, Alabama, Georgia, Tennessee, California, and all other the United States.
Our Accountants, Income Tax Experts, and Small Business Specialists offer:

Talk To An ACCOUNTANT ABSOLUTELY FREE !
income taxes | income tax help | free tax advice | bookkeeping help | accounting help | small business tax help | small business tax advice | taxes | free bookkeeping help | free accounting help | free tax help | free income tax expert advice | free bookkeeping advice | free accounting advice